Hi guys Cormac here with a new blog on some creative and effective marketing tips for agents. During my year writing a dissertation on viral marketing and social networks I've picked up some useful tips on their purpose for businesses online strategy. The attitudes of the consumer (for example your targeted landlords/tenants) are completely different to what they were five years ago. The way i like to describe it is the hunter has become the hunted. What I mean by this is that no longer are we standing still and brands/marketers/companies shout their marketing messages and push advertisements in our faces but we decide exactly what we want to engage with. The power of TV and newspaper continues to fall as we spend more time online and  become more attached to hand held devices.
What does this mean?
So the consumer is now the one looking for the brand, once they decide what they need they will go online and start researching what available, they wont be listening to the radio when they have the I-pod blaring and they wont be seeing your ads when there reading the news on their latest phone app. So what an agency needs to do is increase its presence online. There is a wide range of areas you can engage in when implementing an online strategy as you can see from the infographic below complements of alltopstartups.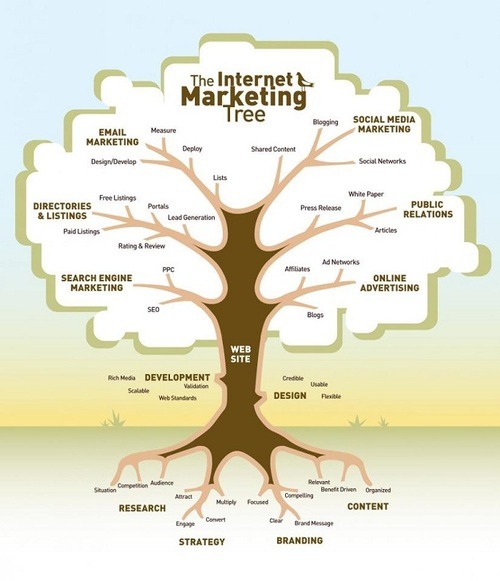 Today i'm gong to discuss part one of the online marketing strategy which is search engine marketing. Search marketing is broken into two areas SEO (Search Engine Optimisation) and Pay Per Click advertising. This is one of the number one ways to market your agencies website as your targeted audiences are heading to Google every day to search for the services they need such as rented accomadation and letting or management services
Many of you will be aware of the Google Adwords platform as it is the main money making facility for Google so its marketed heavily to everyone and anyone on the internet. It is what really kicked off the online marketing buzz but in my opinion its benefits are slowly stagnating as more and more companies use its service. Why is it losing its appeal? Well you have to pick 'keywords' related to your industry for where you want your ads to appear, for example your doing a campaign targeted to Landlords you may choose 'property management Dublin' , 'letting services in Cork' etc , the more specific the better. However  since the influx in companies using the services the costs of using such popular keywords are rising as companies bid against one another for the most common searched terms.
In reality there is only so many words that are relevant for an agent so it may get to the point where you are bidding more then you should or choosing ineffective search terms. What this means is you need to focus on natural search marketing known or as i referred to above SEO , search engine optimisation, Avril Fagan the head of Digital marketing at Sage Ireland describes this as the holy grail of search. It involves creating content relevant to your industry, website optimisation of key-words, meta-tags and much more that I will cover in the next blog. 
by Rentview