This weekend saw the new design of the property profile page being released. We have been busy listening to our users who have asked for an even quicker way in reconciling rental payments as received and paid to landlords.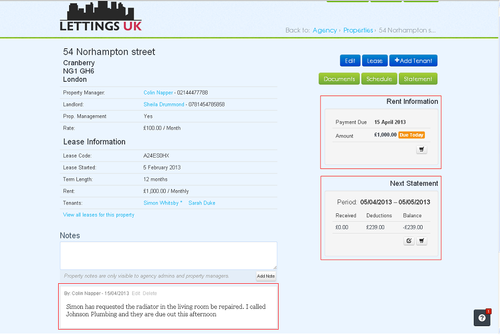 Now agents can do all of these tasks on the Property Profile Page. However if a rental payment due needs to be edited or history viewed this can still all be done through the Schedule page.
Managing financials
Once your rental payment is received you can process it from your Rentview account to the landlords here also. It will now show the deductions to be taken and held from the rent. You can also click through to the invoice page to add/edit or delete any payments from this invoice. As with the rental schedule page you can also click through to the Statement page to view history etc.
Property Notes
Lastly you can also now add notes to the property which are date stamped with which ever agent left the notes. These notes are for internal use only. 
To find out more about how Rentview's letting agency software can help your letting agency enquire at info@rentview.com
by Rentview