Tenants and Landlords Property Management
Welcome to the very first infographic from Rentview. We're always looking at new ways to provide content for the property management industry and we have started with this analysis on tenants who are currently living in rented accommodation. From our survey of renters in Ireland,  here are some of the interesting facts and figures we discovered 🙂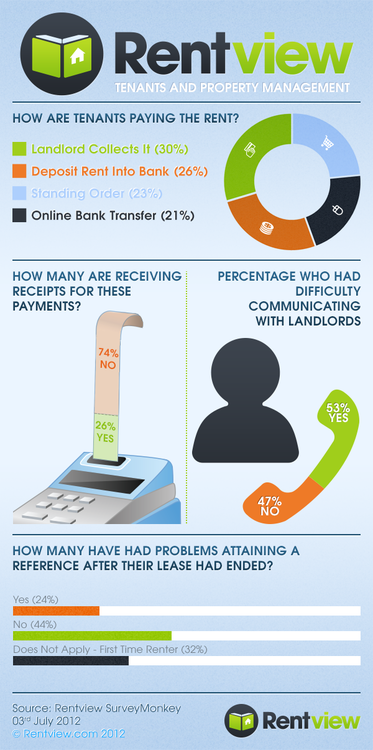 Some quick notes on the figures above for tenants and landlords property management:
Firstly the rent collection process from landlords or agents is quite varied, from physically collecting the rent from the tenant to transferring the money via online banking. Standing order, one of the cheapest methods and more efficient for collecting a tenant's rent placed third in the list of options, which do you think works best?
Interestingly a whopping 74% currently do not receive a receipt for their rental payments. I have always requested a receipt from my landlord when paying to ensure there is no possible reason for disagreements over moneys paid throughout the year, and secondly its a great form of reference to apply for credit in the future. What's your opinion?
Our third section is slightly worrying for me, as over 50% of the 100 tenants we surveyed noted difficulties in contacting their property manager or landlord throughout their tenancy. I personally would wonder how any agency is going to consistently maintain there tenant base when they are facing such issues.
Finally we questioned the renters of Ireland on their experiences in securing a rent reference after their tenancy, most landlords and agents were happy to give out references promptly to their tenants (44%) while only 24% had difficulty in securing a reference.
Other infographics you might like-
Landlords and property management infographic
The Dublin rental market infographic
by Andreas Riha