Property management Marketing Trends
If your like most property management companies your most likely strategising on how you can reach the targets you have set your property management company this year.
If you are not and your looking to increase your profit on last year you should start to put targets in place now. The best way to increase your property management companies profits is through marketing.
Here is my 4 property management marketing trends that will help you increase your profit in 2014.
1. Content Marketing
Your website visitors
This is the number one way potential landlords can find your property management business. There are two types of visitors you can attract to your website. The first is a customer who knows they want to employ your services to either let or manage their property. They normally enter search such as " Property Management company in Dublin". You should have your website already optimised for keywords in order to have some of these searches land on your website. If not learn more about letting agency SEO here. This type of search short tail keywords
Your second visitor is somebody who is looking to research a topic in order to get help. They are typically looking for an expert who can help them with a problem they have. In order to reach these potential customers you need to understand their problems, their pain points and write articles on how to best deal with these problems. Really what you are looking to show here is your domain knowledge and show them that they are better off employing you to resolve their issues. A typical search term may be " finding tenants in Dublin". The type of search term here is called a long tail Keyword.
What content to write about?
A really good starting point for understanding pain points being searched is by using Google Tools such as keyword planner. Here you can research how many times a month a short tail keyword or long tail keywords are being searched for. In order to write about this content and deliver it on your property management website you should install a blog. But do not get frightened by the thought, you have the knowledge in your head you just need to put in writing, Check out this guide to writing a property blog
2. Google Apps
Last year I talked and blogged about this quiet frequently but I see that using Google tools will help your website visitors grow hugely this year. If your not using Google apps yet start immediately as I see these being key in property management marketing trends in 2014.
 Google Places
If you don't have your Letting agency on Google Places put it on there right away, its quick and easy and you can have it up live in a couple of minutes.  Here is a post on set up your Property management company on Google Places
Google Local
Google places is the Yellow Pages of the internet. Once a visitor to Google searches a term such as "letting agent" and their IP is visible Google will automatically return local companies to the search. This is only possible by activating Google Places. Below is a typical local search return result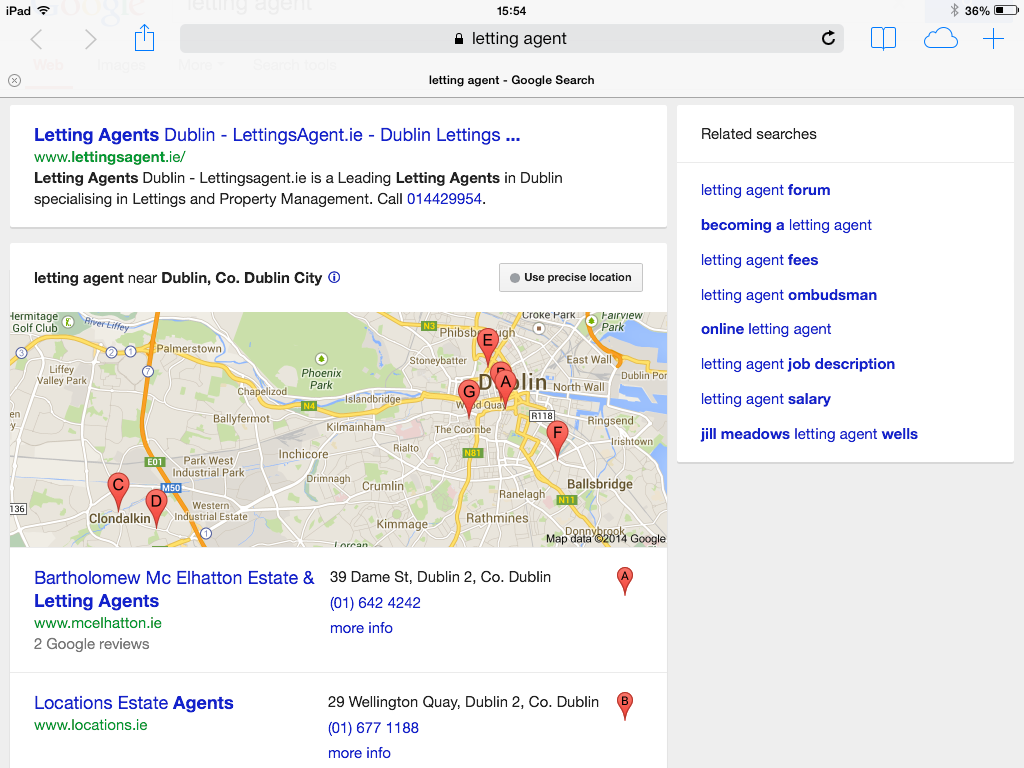 Google Reviews
Once you have listed Google places I would highly recommend asking customers to leave a brief review of your services. To see how to do this you can look at this post "Requesting a Google review".
By requesting and building your reviews it will really help build the trust you will receive from new visitors to your site. I spoke about showing your domain knowledge with reviews you reinforce this knowledge. So now when you create content your visitors will see you know what you are talking about. Here is a previous blog post I wrote on Building Landlords trust
Google Authorship
Ever wonder when you do a search on Google why certain search returns show thumbnail images to the left? These images are avatars of the author of the article, by setting up Google Authorship on your content you are verifying with Google who the author is and that it is not spam. Google will show your posts higher within a search result once Google Authorship is set up. By including the image more visitors will be drawn into clicking on your webpage as it will stand out from that of other search results.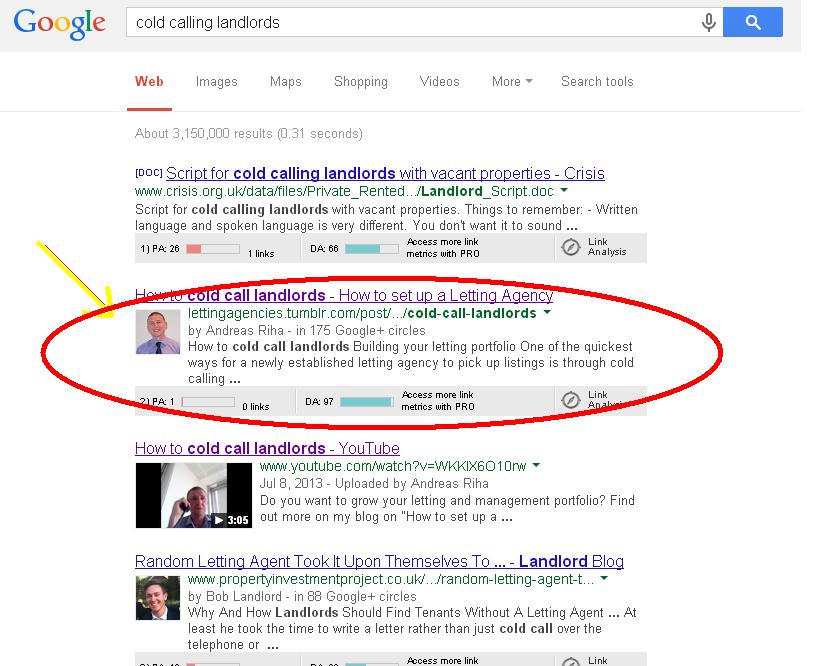 3. Video
This should also appear under the Google Apps if you are going to use YouTube which is owned by Google, you will automatically use the same login for your apps as you will for YouTube.
Video Content Management
Video is fast becoming a major marketing force and if you are not going to use video you are going to get left behind. As above when I discussed becoming a domain expert video is the best way to come across as this expert.
If you have a Google account you can then set up your channel and link it through to your website. This is important in all of the Google apps and doesn't change here. You are effectively telling Google that you are using this app for your website and in turn Google will improve your search ranking.
If you haven't set up your channel yet see how to do it here Setting up your property management YouTube Station.
Property Marketing Video
Depending on your strategy in marketing properties you may want to look at video tours. Promoting a property through video is a great way to rank high for certain search terms for properties. And similar to above using video for certain keywords will return a video play screen within Google search results, this is the top way in getting instant clicks. Here you can see how to edit a property marketing video.
4. Call to Actions
Include steps 1 – 3 on to your website and I guarantee you will see a huge spike in your website traffic. The last piece in property management marketing trends is having an effective call to action.
The content on your property management website needs to confirm your domain knowledge as an industry expert in the property management field. Now that you have them on your site having reviews linked in as discussed will build trust so now you just need these landlords to contact you. All you need is their contact details to make a website visitor a high end lead.
You can take a look this blog on letting agency website design for more ideas
Entry Forms
A simple and easy contact form which only requires name, email and phone number works best. Take a look at competitors sites and your own and if you have anything more than the above I am sure you are losing possible customers. You want to create as least friction as possible in order to get the landlords details. Expecting a potential landlord to copy and paste an email address into his email is not acceptable and only showing a landline number is the same. I personally am not a fan of  Captcha as so many people get them wrong and end up leaving in frustration. As the KISS acronym states Keep it Simple Stupid.
Analysis
Implement these property management marketing trends into your business today. The team at Rentview are happy to help and you can find more information on some of its property management software services here