Can Marketing Letters increase your estate agents portfolio ?
Marketing letters are becoming more prominent in the real estate profession. These simple printed letters have a great impact on potential clients, especially those which have a targeted area in which they want to acquire properties.
Yet, for a great deal of real estate agent which implements marketing letters, they find that their campaign does not yield the results that they want. Why is this? In most cases it is a matter of content and creativity.
Here are a few strategies which will help you have a great letter which conveys the proper information to your potential clientele.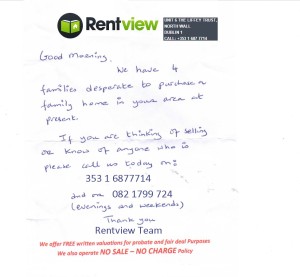 The packaging is everything
When you are sending a marketing letter, you have to make it look different from all other junk mail. One great strategy is to have your letter delivered in a greeting card format.
Ensure that you have the card in a card envelope with a hand written (or at least in a printed font that looks like it was hand written) address. Avoid using "current resident" as this has been shown to make people apprehensive to your content.
Another way to get people's attention is to write a handwritten letter with no envelope attached as it will look like it was written specifically for the owner of the property. This should ensure you letter gets opened an viewed by the vendor.
Personalise your letter on a branded letter head
Once the letter has been opened, the potential client needs to see something which will jump out to them. If you sold a house recently just down the road from them, then you should include a large photo of the house with a Sale Agreed Sign. This should definitely get their attention to read more about your offer.
You should highlight your extensive database of buyers you current have looking for similar homes you might just get a new vendor interested in your services.
On the reverse of the letter you could also include the following
Main message such as Properties Sold by Emerald estates in your area.
Recent photo and addresses of houses sold locally
Include your fee if it is a good selling point
Picture of your office
Recent testimonials from clients
Contact details + out of office contact number
Highlight the recent sales prices achieved in the neighborhood
Potential clients which want to sell but unsure of the market may need a little bit of a nudge to get them interested. It is paramount that you put actual recent sale prices in your marketing letter.
However, this must be done tactfully. It is advised that you also include the number of potential buyers you already have to your potential vendors. Here is an example:
Dear Mrs. Robinson,
The housing market in your area is on the rise. Recently, houses on Green St. and Thompson St. sold for an average of £275,000. We currently have 3 more families looking to purchase homes within your area. If you or someone you know is looking to sell, please contact us.
Note that the market is specific to the area. You do not want to go too narrow or too large. If you are looking for a potential vendor in a highly populated city (such as London) you would want to narrow down the data to a few blocks. However, if you are aiming at a potential vendor in a smaller town (such as Donabate, Co Dublin) you would want to include the entire town or county.
By stating the number of potential buyers that you have, you are maximizing your potential for multiple vendors.
Alternatively, if a potential vendor does not want to sell but knows of people who want to buy, your margin for potential buyers which work with your company is expanded.
Offer a referrer fee
Where you may have a targeted campaign area with a great deal of potential vendors, you may find that those people are less apt to refer another person without some incentive, especially if your competitors are offering some form of compensation.
One useful strategy is to offer a monetary reward upon the sale of a property by a referred neighbor.
Most people in a neighborhood know one another and they might have an idea that their neighbor is planning on selling their home. This will most likely mean they will do a split on the referral fee but that means you have locked down the business.
Add a get to know you section
If you have current properties within the potential vendor's area, offer a meet the agent section on your letter. Schedule a time PRIOR to your open house time to meet other potential vendors. This will work to your favour on multiple levels
By offering to meet you prior to an open house, you can show your potential vendors the quality and asking price of an actual home in the targeted area.
By offering a meet the agent you are putting a face with the name. This greatly increases that you will be chosen should the potential vendor decide to sell.
If you are selling 5 properties per month you have the capacity to replace these five properties within the areas you just sold in. Most agents hope the Sale Agreed Sign in the garden will help yield a potential lead from a vendor but I strongly think this tactic if implemented correctly will help estate agents win new instructions.
Don't get so carried away that you forget the basics
Finally, ensure that you have the basics covered. I have seen it happen over and over again. A greatly constructed letter is made but lacking the basic contact information. Sure, the real estate's name is mentioned, but there is no phone number or an address.
Potential vendors need to have this information.  If you really want to go the extra mile with your potential vendors add a personal phone number for out of office contacts.
This adds to the personal touch and lets the potential client know that you are serious about hearing from them.
Conclusion
Marketing letters are a growing strategy in the real estate profession. Ensuring that your letters do not look like junk mail, catering to the neighborhood in which the potential vendors are located, adding personal touches, and packaging the letter so that it is visually appealing as well as contextually sound will result in having a more responsive potential clientele base.
Keep an eye out for our next blog on Winning new instructions Online.